Putting items to one side
It is rather common that our team is asked to leave some items behind that may be included within the sale or reuse of the property such as electric and gas cookers as a prime example. If you have any personal items such as family documents and effects that are precious to you and the rest of the family then we recommend that you separate these items before our team enters the property.
What our team removes
Our team will pretty much clear out the property and everything that you ask from them. They regularly clear inherited homes that have all type of nasty things like rotten food, old fridge freezers, beds, sofas. Clear It Now has a full waste carrier's license that enables us to safely and legally remove all household waste from all different types of properties and businesses in the Christchurch area.
Green Christchurch
We love Christchurch and we believe in keeping it as green as possible. Our team takes great pride in sorting through your rubbish and ensuring that no item is ever wasted on a landfill site. We use regularly local charities in Dorset for items such as clothing and reusable furniture. Our customers regularly ask us to donate to a charity of their choice, if you have a preferable one then please inform our team.
Clear out your property today with Clear It Now
If you require a house clearance in Christchurch than our team want to hear from you, we have performed thousands of house clearances across the south coast and can ensure you that we always put you the customer first and we are constantly reviewing our rates to provide our customers not only with the very best in customer service but also the very best pricing of our professional and affordable services.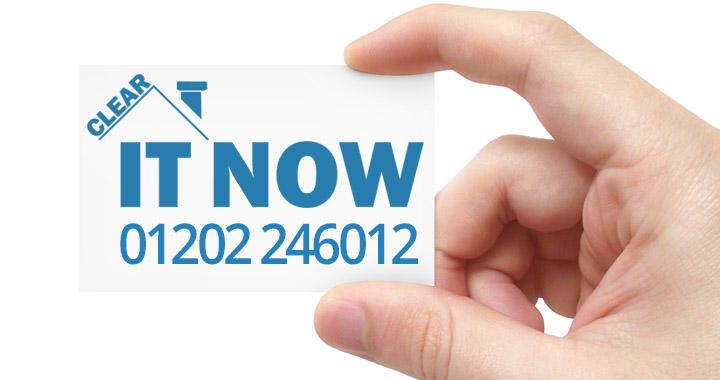 If you would like quick house clearance quotation for your property then please contact our team using our website email form or alternatively for an instant quote please ring our team on 01202 246012. We look forward to working with you.